There is no representative of the team in the borough


The inauguration of the town hall is a milestone in the history of the Sud-Ouest. This significant event calls to mind our borough's past and its history.
Ready for a historical overview of the evolution of the borough, the town hall and the borough council? Let's go back to 2002 ...
THE CREATION OF THE BOROUGH
The Sud-Ouest borough, as it is known today, was created in January 2002, when Bill 170 kicked-off the creation of a single city on the island of Montréal and the Sud-Ouest became one of the 27 boroughs of the new City of Montréal.
Even before it became a borough, though, the Sud-Ouest existed and had its own unique personality. Considered an area of Montréal, it consisted of a cluster of neighborhoods located west of downtown on either side of the Lachine Canal, and was bordered by the old municipalities of LaSalle, Verdun and Westmount.
Our borough is now constituted of these same neighbourhoods that grew together naturally over the years: Little Burgundy, Griffintown, St. Henri, Point St. Charles, Côte-Saint-Paul and Ville Emard. These neighborhoods offer a good quality of life and lend to Montréal's beauty and character.
There is no representative of the team in the borough
Representatives' Office
514 903-1207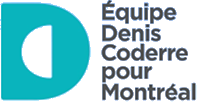 Denis Coderre
514 903-1207